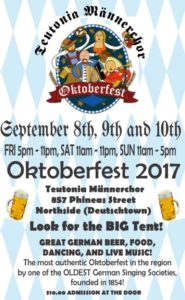 Are you ready for Oktoberfest?  We are!
Come to the Teutonia Männerchor's Public Oktoberfest on September 8th, 9th, and 10th.  The Alpen Schuhplattlers are dancing in the Fest Tent at 8PM on Friday, Sept. 8th and 3PM and 8PM on Saturday, Sept. 9th.
Don't forget to stop by our food booth for delicious potato pancakes!
Teutonia Männerchor
857 Phineas St.
Pittsburgh, PA 15212