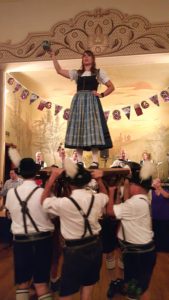 Join the Alpen Schuhplattlers for an evening of dancing and music as we celebrate our 53rd anniversary!  The festivities feature dance performances by the Alpen Schuhplattlers and music by the Youngstown Saxon Brass Band.  Our famous gift and 50/50 raffles will be back!
Saturday, April 22, 2017
8:00 PM – Midnight
Teutonia Männerchor
857 Phineas Street, Pittsburgh, PA 15212
Tickets are just $12 adults/$6 kids 12 and under.  Dinner is available in the Ratskellar for a separate charge.
Interested?  Contact Marina at 412-491-0577 or marina@ruggiero.net.