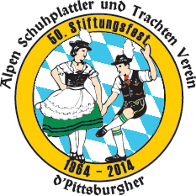 Everyone is welcome to celebrate 50 years of dancing, tradition and friendship at our 50. Stiftungsfest.  Don't forget to reserve tickets for our banquet, Bauernmesse and brunch!  Please send in your reservations by April 11th.
Banquet: April 26, 2014 @ 6PM, IBEW Circuit Center, South Side
Join us for a delicious German dinner and an evening of dance performances and dancing to the music of the Barons.  Adult tickets $40; kids 10 and under $15.
Bauernmesse and Brunch: April 27, 2014 @ 10AM, Teutonia Männerchor
Finish the weekend with a traditional Bauernmesse sung in German.  Join us afterwards for brunch featuring a pig roast!  Brunch tickets: $10.
Reservation forms are available here or in the Teutonia Ratskellar. All events are cash bar; the IBEW Circuit Center accepts cash only.
Questions? Contact Jackie Dorfner at 412.257.7574 or dorfner24@comcast.net.