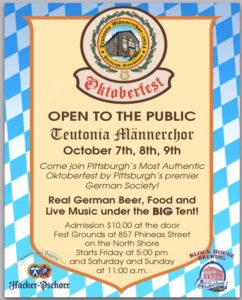 Oktoberfest at the Teutonia Männerchor is open to the public this weekend and the Alpen Schuhplattlers are ready to celebrate! We're dancing on Friday 10/7/16 and Saturday 10/8/16 at 8:00 PM in the Fest Tent.
Daily admission is just $10.  Be sure to stop by our food booth for a pretzel!
On Saturday 10/8/16 at 11:00 AM, we'll be marching in the Columbus Day Parade on Liberty Avenue in Bloomfield (Pittsburgh's "Little Italy"). We represent Germany in this celebration of Pittsburgh's ethnic heritage!