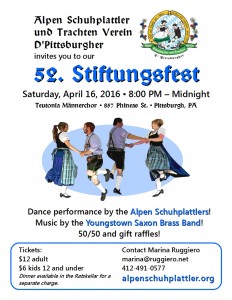 Get your tickets for the Alpen Schuhplattlers' 52nd anniversary!  They're available at the Teutonia Männerchor or contact Marina at 412-491-0577/marina@ruggiero.net.
April 16, 2016
8PM – Midnight
Teutonia Männerchor
Music by the Youngstown Saxon Brass Band
Dance performance by the Alpen Schuhplattlers and friends
50/50 and gift raffles
Tickets: $12 adults/$6 kids 12 and under
Dinner available in the Ratskellar for a separate charge.